Design
Design requirements for the project consists of three elements and their full integration:


Transformer and new Distribution Panel

Capstone C65 Microturbines

Integrated Heat Recovery system


There may be potential for the microturbines to be utilized for backup power for production and/or basic company operation, depending on the unit's ability to operate in an 'islanded' mode. This capability remains to be determined.


Powered by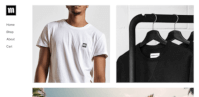 Create your own unique website with customizable templates.